With a view to popularize simple chemical experiments, reactions, basic principles and procedures,
among the students, the department of Chemistry organized a special programme "Chem Magic" by
Prof. Ronald Mascarenhas , Retired Professor and Head of the department of Chemistry, St Agnes
College, Mangaluru on 14 th February 2020."Basic sciences play an integral role in the development of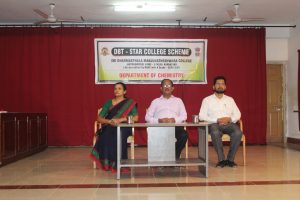 critical thinking and creativity of an individual. They teach us the 'why' and 'how' of life", said the
professor. Perceiving the need to develop the scientific temper and a genuine interest in scienceamong the students, he made the session very interactive and fun filled one. He revealed the mystery behind few chemical reactions to the students in an enchanting manner. Nearly 200 students attended and actively involved in the session. Dr.Vishwanatha P, Head of the department and all the members of the faculty were present. The programme was sponsored by Department of Biotechnology, Government of India under the Star College Scheme.