"The west respects and attempts to emulate Indian culture, but we are inclining towards destroying our own culture through inefficient means of waste management. We are destroying our rivers and nature with plastic, which needs to stop immediately" said the Trustee of SIRI Rural Development Trust, Shraddha Amith. She was addressing the students of SDM Women's ITI at an event organized to promote the usage of cloth bags.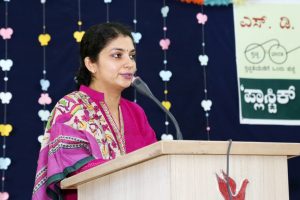 "Eliminating plastic can go a long way in conserving our nature. Each one must take up the responsibility of educating others about the disadvantages of using plastic, and suggest alternatives" she continued.
Dr. B Yashovarma, Secretary of SDME Society said "Environment conscience has grown stronger since our Prime Minister called for a clean India. SDM Educational Institutions have always given prominence to cleanliness and pro-environmental initiatives, this being one of them."
Free cloth bags were distributed to students at the occasion. SDM has also initiated a campaign where more hostel students will be distributed free cloth bags for everyday use. The anti-plastic campaign is a part of the SDM Social Responsibility Series.