A community of creative story writers and narrators is taking shape at SDM College Ujire and apparently everyone's taking notice. 'Pakoda Tales' is the quirky title of this innovative community and the series of events that brings people together for an evening of creative exchange. A novel stream of formal education named B.Voc (in Digital Media and Film Making) has initiated the series, and the very first event of the series held on 17th of February 2021 was one of its kind.
Pakoda Tales is an open community that welcomes creative individuals with open arms. Hosted at SDM both virtually and offline, it has announced a series of 12 events, each themed differently based on a new creative aspect. The first event was themed on stories, the second shall be music, third one art and so on. Innovative events centred on film making, acting, characters, cartoons and more are lined up for the year. Dynamic and active experts from every field are invited to the events where they shall interact with the small crowd for a while, after which the community members engage in a custom designed creative exchange based on the month's theme.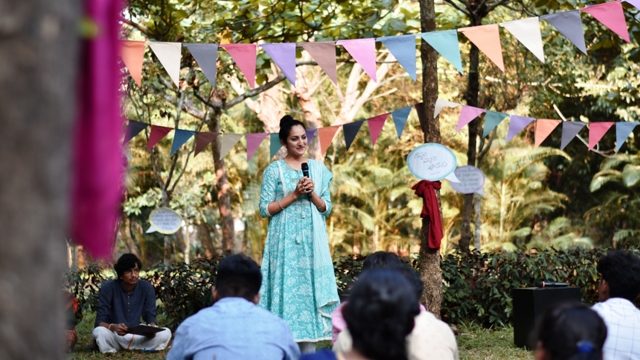 The story based event took place at the SDM Arboretum (botanical garden) during sunset up to 6.30 PM. The ambience was as fresh and welcoming as the idea itself – amidst the deep greenery of nature dotted with handmade confetti wires and casually piled up heap of fictional books. The trees around were handed a well researched quote that related to the theme of the day that was fastened to their trunks with aesthetic drapery. It was simple, elegant and so visibly appropriate for creative people to gather around, squat on the lawn, munch on a few Pakodas with tea and curate some stories. An ideal setup that anyone would love to be a part of.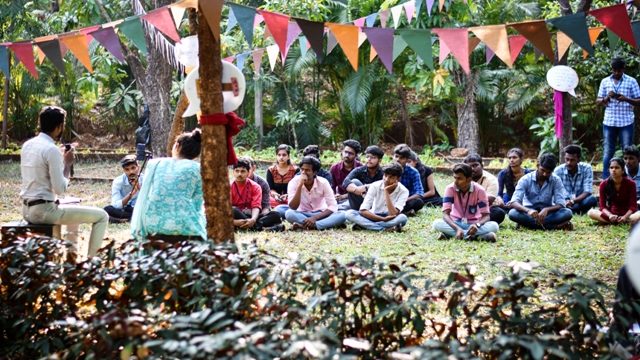 Most of the crowd constituted students of SDM from various streams alongside some interested members of the faculty. The guests were Muhammed Danish – a novelist, Padmini Jain – a dialogue writer for soap opera in Colours Kannada and Dr. Rajshekhar – a novelist and story writer with State Award for literary achievement. Danish, being a fiction writer and a novelist, shared the elements of a story that make it the most engrossing for a reader. Padmini, a constant facilitator of prominent Kannada daily soaps, spoke about how narration is the most challenging part of a story, and the defining one. Dr. Rajshekhar, one with profound experience in story and poetry writing, shared the cognitive dynamics and dissonances of a writer's mind. The audience had some difficult questions to pose to the guests and the interaction that followed was a rather intense one, delivering a promise of elevated interests and intelligence in stories amidst the crowd.
A 19 year old stole the spotlight with an innovative activity that came up next, one where a story was presented up to precisely 72% of its full potential and the audience was given the opportunity to complete it their way. Shashanka, a student of Journalism at SDM, enchantingly narrated a complex story he had authored, and stopped narrating when it peaked everyone's curiosity. The audience was given a few minutes to brainstorm while they savoured Pakodas and then there was no turning back. Pretty much everyone had a version of the climax of Shashanka's story that was based in a rural Indian setup and was more elaborative than most people's real-time experiences. More than twenty different possibilities of the story were presented and discussed, some of them deep, some complicated, some extremely creative and some wonderfully funny. The event ended with a similar story based game whose results will be carried on to the next event and will reflect on the stories shared therein. The next event is themed on music alongside stories, and is an extremely promising one; especially considering the success of the first one.
Pakoda Tales has received massive support from SDM Mangament and Dr. B Yashovarma, the Secretary of SDM Group of Institutions was himself present at the event alongside his wife, Soniya Varma. "This is an incredible idea", says he, "to bring together like minded youngsters and host value based creative exchanges. The idea is fresh and inspiring. I'm inspired to tell a story too! Hopefully, one of these events shall have little kids in the audience to whom I'd be happy to narrate one of my favourite stories of all time." The Principal of SDM College Ujire, Dr. Satheeshchandra too was present in the audience among the kids and contributed to the event with a story of his own with a mysterious cliff-hanger!
Pakoda Tales is one of a kind, heart warming and extremely creative platform for creative individuals to be a part of. The community stays active online on the sdm_b.voc page on Instagram between events. People are welcome to send stories or experiences based on the month's theme on which online discussions are held. Only original content is accepted. The theme for the next month is music combined with stories, and any form of entries pertaining to the theme can be sent to bvocdmf@sdmcujire.in. And yes, everyone's welcome to be a part of the upcoming events whose details are regularly posted on the Instagram page. The hosting team expects the community to grow bigger and more intense in the coming months – for who doesn't love stories and creative exchanges!