"Youngsters must envision an organization that is technically oriented when they seek career opportunities", said the Secretary of SDME Society, Dr. B Yashovarma. He was speaking at the interaction program held at SDM College Ujire with the students of Despande Foundation Lead Payana.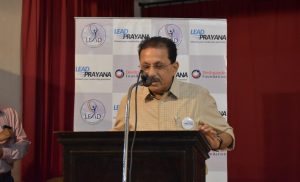 "Traditional means of employment are at the verge of extinction. There will hardly be a career in the future that shall be devoid of technology. Students must hence of long sighted and prepared for a professional world as such", he added.
Principal of SDMC Ujire Prof. Satheeschandra, HOD of Journalism Bhasker Hegde, Registrar Dr. BP Sampath Kumar and the program head of SKDRDP Boodappa Gowda were present at the occasion.