On 4th February 2020, the department of Chemistry organized a lecture cum demonstration on "Chemical Safety – Safe Chemistry" by Mr.Jagadisha Bhat, Manager and Head, Department of Environment Health and Safety, Solara Active Pharma Sciences, Mangaluru.
Mr Bhat spoke on the safety and basic principles of accident prevention. "In practice no job is free from danger. Safety is acceptable risk. Safety depends on what you think about it, what you know about it and what you do about it" he said.  According to him, safety can be achieved by 'Right attitude', 'Correct Knowledge & Skill' and 'Prompt Action'. He demonstrated Chemical safety- the practice of minimizing risk of exposure to chemicals in any environment through videos. He advised the students to wear gloves, masks and aprons in the laboratory and to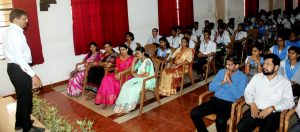 follow safety measures. "Developing a safety culture by establishing and maintaining a sound chemical safety policy not only saves human lives and protects the environment but also avoids fines and penalties" he said. About 250 students of Chemistry were benefitted by programme. Dr.Vishwanatha P, Head of the Department presided over the function. The event was sponsored by the Department of Biotechnology (DBT), Government of India under Star College Scheme.