"The younger generation that is fond of folk arts must focus more towards researching and documenting the aspects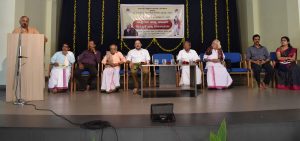 of Yakshagana, and work towards including more comedy and laughter in the art form", said the Director of Karnataka Yakshagana Academy, Prof. MA Hegde. He was speaking at the valedictory ceremony of the two day 'Yakshagana demonstration and documentation workshop' held at Siddhavana, Ujire.
Dr. B Yashovarma, the Secretary of SDME Society stated "Profession turns into devotion when it is close to heart. Yakshagana is a devotion for many. It is also adapting to modern changes with time, which makes scope for youngsters to explore it even further, and develop it."
SH Shivarudrappa, the Director of Karnataka Yakshagana Academy said "Yakshagana has played a major role in popularizing Kannada language nationally and internationally. This event is an important one in sustaining that trend."
The event took place in the presence of over 30 senior Yakshagana artists.