"When we formulate economic principles, we must keep in mind the indigenous necessities and conditions. Adopting western theories and constructs can lead to economic distress" said the Finance Officer of Mangalore University, Dr. Sripathi Kalluraya.
He was speaking at the valedictory ceremony of the national level seminar on 'Economics of Lord Mahavira Revisted' held at Siddhavana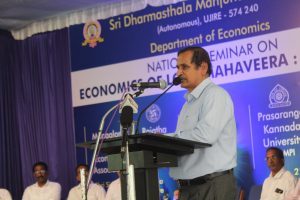 Gurukula on 21st of January. "India has lost its touch in economic excellence post colonization. Resorting to history where we can find ideals such as that of Lord Mahavira's is an ideal option", he continued.
The Principal of SDM College Prof. Sateeshchnadra, Dr. Jayakumar Shetty of the Economics department were present at the occasion. Dr. Kalluraya was felicitated at the occasion.