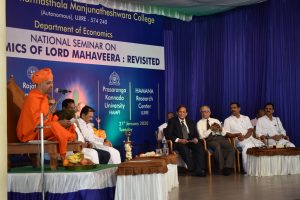 "The life sustaining ideals of Lord Mahavira also shed light on economic prospects. He has always advocated that only the money earned through righteous ways must be utilized to build a life", said the Vice Chancellor of Kannada University Hampi, Dr. SC Ramesh. He was speaking as he inaugurated the national seminar on 'Economics of Mahavira Revisited' at Siddhavana Gurukula on the 21st of January.
Swastishree Charukeerthi Bhattaraka Mahaswamiji of Moodubidre Jain Mutt said "The ideals of Jainism mark all the ideals necessary for leading a great life. It also traces the righteous means of earning wealth and the necessary principles to be economically sustainable."
A book titled 'Hakkugala Paribhaasheyalli Abhivruddhi' authored by Jayakumar Shetty and Dr. Prashanth HD was released at the occasion by Shri. D Harshendra Kumar. Maatrushree Hemavathi Heggade, The Founder of Ujire Jainology Endowment, Dr. Bipin Doshi, Secretary of SDME  Society Dr. B Yashovarma and the Principal of SDM College Ujire Prof. Sateeshchandra were present at the occasion.