"Emotional expressions are the essence of life. When art brings forth enhanced emotional expressions, it becomes popular. Yakshagana is an art form that facilitates emotional expression, which is why we are all fond of it", said Dharmaadhikari Dr. D Veerendra Heggade, as he inaugurated the 'Yakshagana – demonstration and documentation' event at Siddhavana Ujire on the 11th of January. The event was jointly organized by Karnataka Yakshagana Academy and SDM College Ujire.
The Director of Yakshagana Academy, MA Hegde said "Comedy is an important part of Yakshagana, not just as an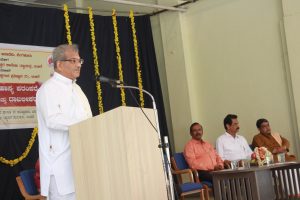 entertainment but as effective expression. The dynamics of comedy in Yakshagana must be learnt by future generations, which is why events like these are important."
A number of senior Yakshagana artists were present at the event. Over 30 'prasangas' (excerpts) of Yakshagana were demonstrated and documented for two days.