"Food is a part of our cultural identity. Alongside exploring modern food, we must ensure that we keep our traditional recipes included in our everyday diet. This is the secret to good health as well", said the Principal of SDM College Ujire, Prof. Sateeshchandra. He was speaking as he inaugurated 'Food Corner', a unique food festival organized by the Home Sciences Department of the college.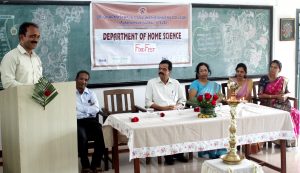 "Home Sciences is not just about cooking. It is a skilled art and science of managing and organizing. This kind of activities build a sense of creative responsibility among students", he added.
Dr. Radhakrishna, Assistant Professor from Mahavira College who was the Chief Guest of the event said "Food must never be confined to being solution to hunger. Students must explore the dynamics of the food industry and venture into ethical food business."
Students of Home Sciences Department presented a variety of food items at the food festival and sold them at reasonable prices. The event was a success owing to massive participation from students and faculty from all departments.