The 'Sauhardha Sibbandi' Institution was inaugurated at SDM College Ujire and the first meeting was held on 18th of January. Prof.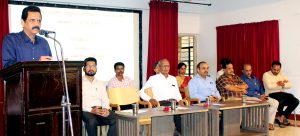 Sateeshchandra, the Principal of the college inaugurated the institution. This is formed with an aim to ensure the well-being of the employees of the college and facilitate monetary benefits to minor employees. Speaking at the occasion, he said "Elderly staff built the college with coordination and ambition, which has led to SDM growing to such heights.Let the coordination sustain, so that the college grows further."
Sridhar Bhat is the Director of  'Sauhardha Sibbandi', and Dr. Vishwanath is the Assistant Director. The cell also consists of nominated members from SDM.